Facebook Messenger ads are all the craze right now.
They're the most PERSONAL ad type on the market.
Our culture has bred an expectation of instantaneous communication. Whether through text, chat, or social media… when someone sends you a message, you FEEL the need to respond in a timely manner (or at least most of us do 🙂 ).
Think about it. 
This is what makes Facebook Messenger marketing so powerful, it taps into a channel that 1+ billion people are using… and also facilitates communication in a way that people now expect.
Brands that utilize Messenger to communicate with their prospects and customers will win.
About three months ago, I explained the ins-and-outs of Facebook Messenger Ads, and now I'm going to expand on that information with a quick case study, highlighting a new feature that's producing amazing results for us and plenty of other businesses.
Using a tool called ManyChat (this is not the only tool with this functionality, it just happens to be our favorite!)…
…you can now auto-message people who COMMENT on any of your Facebook posts!
This. Is. Exciting.
Today, I'll be sharing how DigitalMarketer is utilizing this amazing feature, how businesses in a variety of markets are seeing huge results, and how to get this set up for your own business!
Before we talk about the How, let's talk about…
Why Does Facebook's Comment-to-Messenger Feature Matter?
1. It's an easy way to build messenger subscribers

Facebook allows you to build a "list" of messenger subscribers that you can later send broadcasts to (similar to email, but we're seeing 80%+ open rates). If you read this post, you know why this is so important.
To become a messenger subscriber, someone simply has to have messaged your page in the past. If you use the feature the way I outline below, you can build a subscriber list using the same comment-to-message strategy we are… without even buying ads.
2. Increases relevance score
If you are using the comment-to-message strategy and then turning that post into an ad, this is going to significantly increase relevance score.
Relevance score is a number out of 10 that Facebook uses to tell advertisers how… relevant… their ad is to the audience in which they're targeting.
The higher the relevance score, the more reach your ad gets and the lower the cost. 
Social proof weighs heavily on your relevance score, so the more positive comments, shares, reactions that your post gets, the higher the score.
By accumulating a ton of comments on your post using this strategy, you are in turn increasing your relevance score.
3. It's a great strategy to generate leads and sales (isn't that what we REALLY want?) 
This strategy isn't just about "talking" or "building a list." You can use it to generate leads and sales for your business, too.
The key is to make sure your post leads to an ideal sales conversation for your business.
Asking people to comment with their favorite color just to build your messenger list isn't the best way to use this feature (unless you're selling something that has to do with coloring 🙂 ).
You can use ManyChat to set up an automated follow-up sequence that eventually leads someone to a sale. You can also use ManyChat's tagging system to segment audiences so that you can make them an offer that's most relevant to them.
How Facebook's Comment-to-Messenger Feature Works
So, how does it work?
I'm glad you asked!
Let's role-play for a second here. You pretend to be a marketer scrolling through Facebook, and I'll pretend to be DigitalMarketer targeting you with an ad. 🙂
It all starts when you see one of our posts in your newsfeed. It could be a sponsored post or simply an organic post, like this one:
In this post, we're offering a free guide to anyone who leaves a comment.
As soon as you leave a comment (you can designate how quickly you want to auto-message within ManyChat, by the way), you receive a follow-up from us inside of Facebook Messenger, which looks like this: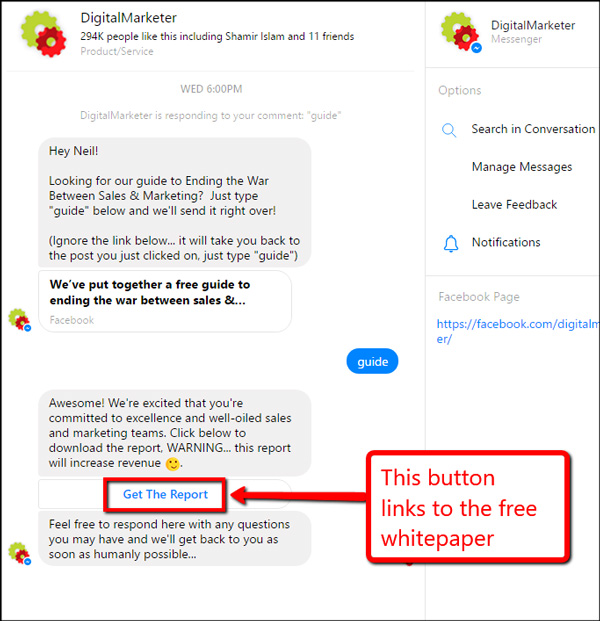 In the message, we instruct you to respond with the word "guide."
It's important to add this extra step! When they message you, they become a messenger subscriber.
After the word "guide" is typed, we send you a link to download the guide.
It's all 100% automated, surprisingly easy to set up, and possible with a ManyChat Pro account (which starts at just $10/month).
What makes this even better is that it's all happening inside of Facebook Messenger.
Which means that if you have any questions or comments along the way, all you have to do is respond to our message—giving us a chance to answer any questions and squash any doubts or objections right on the spot… all while gaining some valuable insights into what our customers are thinking.
Pretty cool, huh?
Just wait—we're not even done yet.
We also have the ability to send additional follow-ups to further engage and segment our subscribers based on their interest.
A day after we deliver the guide, a follow-up sequence begins:
This time, we ask you if you're building a team from scratch, or training an existing team. For us, the goal of this campaign is to eventually get people to sign up for our DigitalMarketer HQ product. The sales conversation is very different depending on you having a team already or wanting to build one from scratch.
After you click one of the buttons, you are "tagged" inside of ManyChat—which allows us to reach out to you later with more relevant messages.
The bot then delivers another piece of content that's relevant to their answer and that continues to give value first.
Or…
Where we can then follow-up with the ideal sales conversion…
Now, let's talk numbers.
Sure, it seems like a cool feature… but does it actually work?
Let's take a closer look at the engagement on this post to find out:
As you can see, this one post has generated 535 comments, along with 1,000 likes and 137 shares (515 of those commenters actually became messenger subscribers). We did spend a little money to boost this post on Facebook, but most of the growth came from organic traffic and shares.
Now, at this point you might be thinking: Okay, but those are 500+ Facebook Messenger subscribers. That's not the same thing as 500 email subscribers.
And you'd have a good point. But, check this out:
That's an 88% open rate with a 19.9% click-through rate on the follow-up messages from people that downloaded the guide.
Those consumption numbers are MUCH higher than we'd see from traditional email marketing.
(NOTE: Ready to use Facebook's newest "ad" platform to turn one-to-one conversation into sales—even if you don't have the staff to reply manually? Check out the Facebook Messenger Marketing Blueprint and discover how Facebook Messenger Ads are changing the way businesses communicate with customers. Learn more now.)
Facebook's Comment-to-Messenger Feature in Action
As I mentioned earlier, this is a brand-new feature, so we're still testing and finding ways to use it ourselves.
But, we've already seen some other marketers do cool things on their own pages.
Our good friend, Derek Halpern, recently published a post in which he asked a question: "What is a good (and realistic) sales page conversion rate?"
Once you comment on this post with your guess, Derek sends you a message with the answer. He also takes advantage of your attention to make a relevant offer and send interested visitors to a webinar registration page:
Derek then broadcasted to his messenger list a few days later…
Cole from Sherpa Metrics also used this functionality to generate 500+ messenger subscribers and to segment his audience in efforts to make relevant offers…
Then he followed up to further segment the audience…
Within 36 hours, Cole was already seeing insane open and click-through rates…
This works for ecommerce, too.
Jordan West at Little & Lively is seeing a $7 cost per acquisition selling clothing using the comment to message strategy…
By simply offering a coupon code for commenting…
Thirty percent of the people who comment and receive the code are purchasing… AND he's building his subscriber list.
Coach Rock at I Love Basketball TV recently utilized this feature with an organic post, that helped build his subscriber list (200+ added) and also generated email leads (send prospects to an opt-in for a "free workout":
Notice that he asks them to respond to let them know the linked opened… Hint: he was generating the subscriber:
How to Set Up Facebook's Comment-to-Messenger Feature
It seems complicated, but this feature is actually pretty easy to put into action.
Just log in to your ManyChat account and click on "Growth Tools" and then "Facebook Comments":
You then have the option to select the post you'd like to use based on its URL, post ID, or a dropdown list of recent posts to your page:
Notice that you can choose to send messages after a certain period of time, to exclude certain keywords, and to only trigger comments for certain keywords…
For our first test, I left all of these blank.
Next, you'll click the "Welcome" button:
This is where you'll craft your welcome message that people will receive in their inbox after they comment on your post.
This is where you'll prompt them to enter another keyword so that they become a subscriber.
Notice the sentence in parentheses at the bottom of our welcome message. Because Facebook references back to the post that they just clicked on, we always put a line of text that tells them to ignore the link so it doesn't cause confusion.
Next, you'll hit "Back" and then "Save."
But, how do we trigger the actual delivery of whatever we promised? What happens after they type "guide"?
You need to set up automation for the keyword you're asking them to type into messenger…
As you can see above, we clicked the "Keywords" button under "Automation."
We then created a new rule that when people typed "guide" we responded with…
We also told ManyChat that we wanted to tag them as having downloaded this report…
The tagging is important because now we can visit the "audience" tab and see how many people have messaged from that particular post, AND we can subscribe everyone with that tag to a particular follow-up sequence…
This feature is already sending us lots of high-quality leads and customers while helping us to learn more about our audience at the same time.
And we're only scratching the surface.
Over the coming weeks, I just know that we're going to come up with many more creative and powerful ways to use this to generate leads and customers!
So, keep your eyes peeled, and let us know if you have a great case study of your own. 🙂
(NOTE: Ready to use Facebook's newest "ad" platform to turn one-to-one conversation into sales—even if you don't have the staff to reply manually? Check out the Facebook Messenger Marketing Blueprint and discover how Facebook Messenger Ads are changing the way businesses communicate with customers. Learn more now.)